South Orange Performing Arts Center
Rebranding/improved UX increases revitalizes live entertainment destination.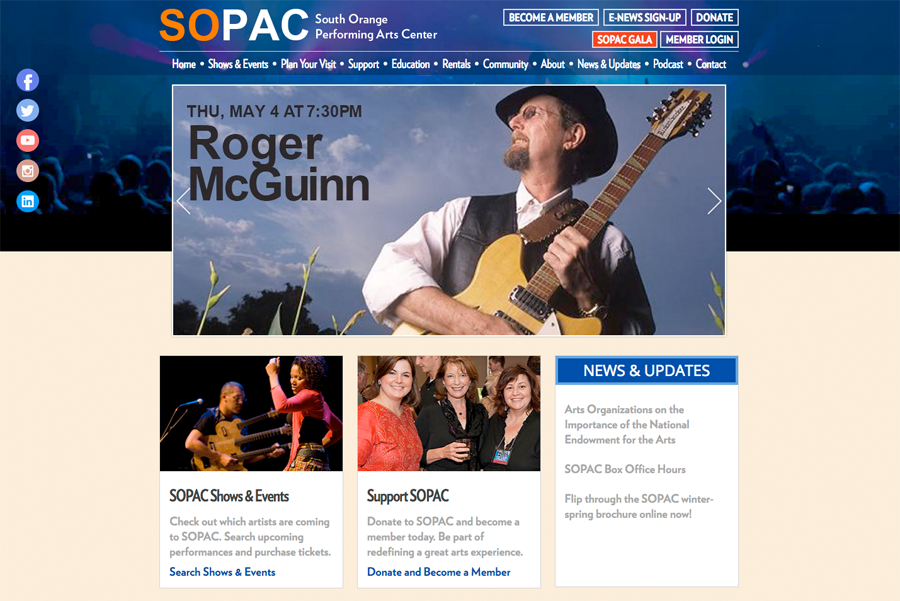 SUMMARY: The South Orange Performing Arts Center's new branding and website captures the excitement of live entertainment. A revised User Experience made it easier for potential ticket buyers to search for upcoming acts. Rebranded SOPAC as a cultural destination, it presents 250+ world-class performing artists annually, and streamlined the User Experience (UX) to deliver ~20% growth in ticket sales and ~23% growth in donations.  SOPAC also won the Discover Jersey Arts People's Choice Award for 5 consecutive years.
• Conducted user research with stakeholders, performing artists, and end-users to define brand identity, content strategy, and user experience while collaborating with "Patron Technologies" to streamline the e-commerce and donation processesRedesigned a multi-use website (sopacnow.org) by considering user needs and integrating them into a comprehensive customer journey while improving UX/UI
• Led a creative team of in-house staff, freelance professionals, and third-party vendors in addition to implementing a customized WordPress CMS, enabling SOPAC's in-house staff to update content and generate time and financial savings.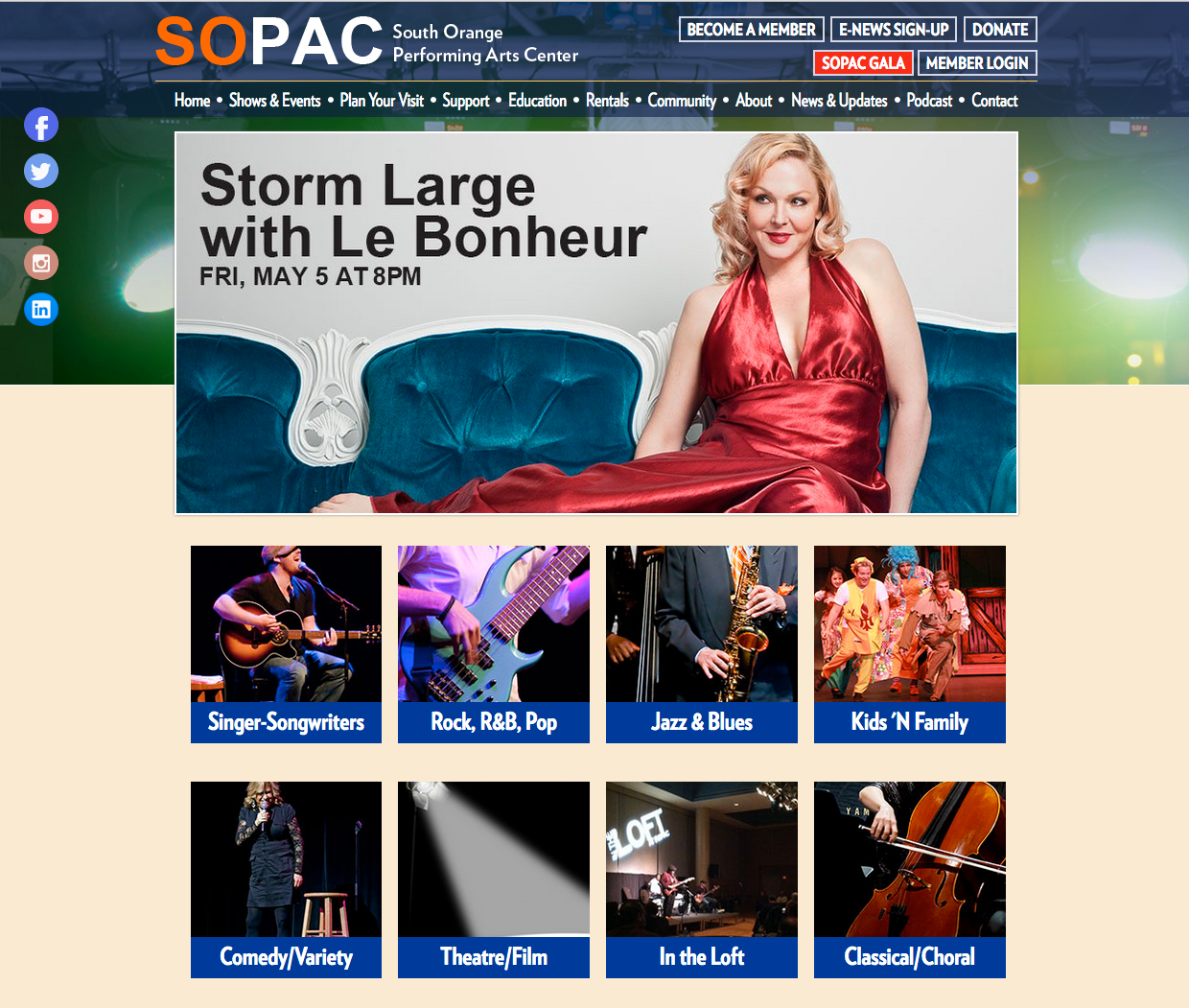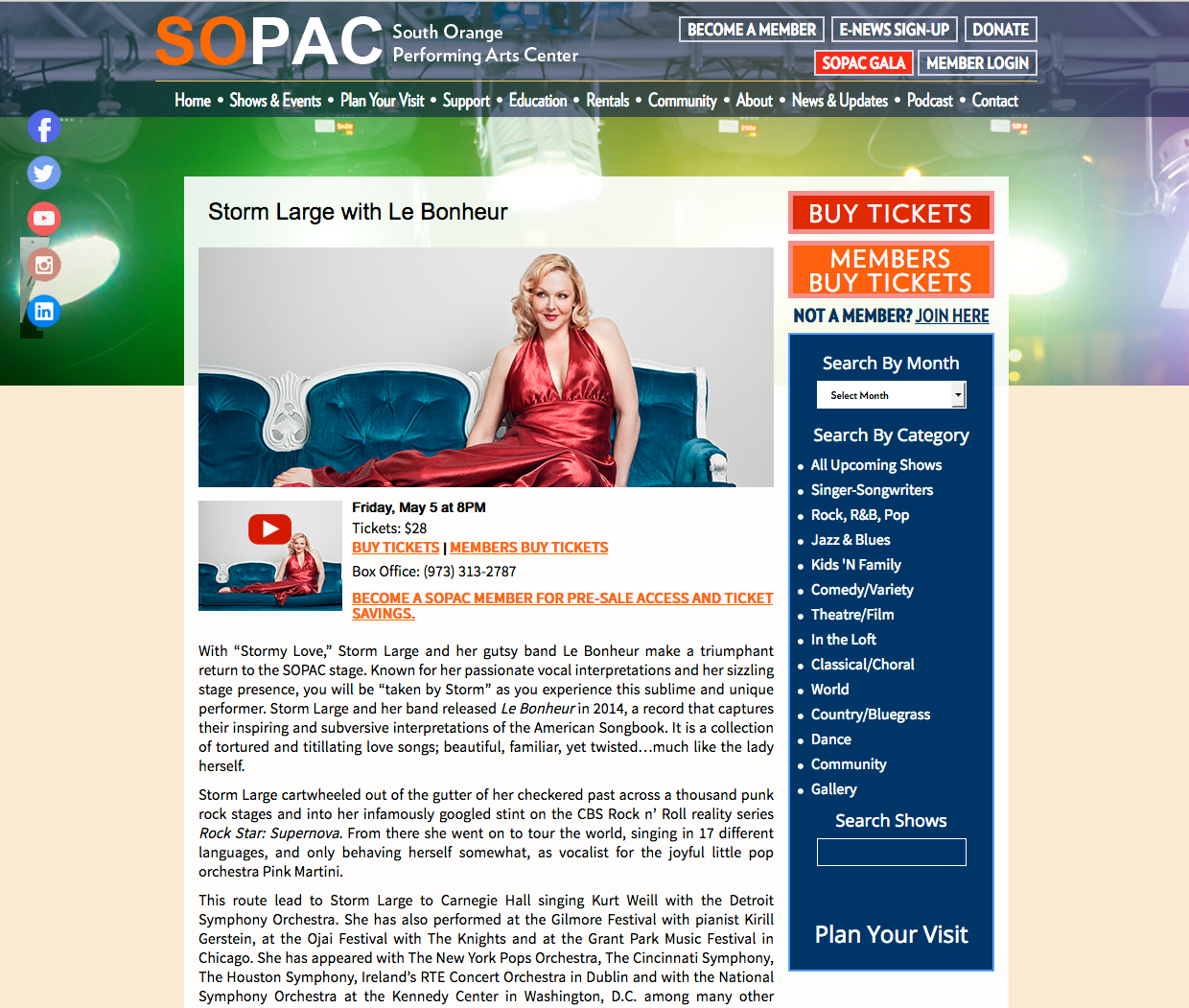 • The new brand identity by leveraged SOPAC's performance art roots and existing artists' photography and video, positioning SOPAC as one of New Jersey's premier destinations for live entertainment. Landings page for each upcoming act allowed potential ticket buyers to sample the performances to encourage sales., and we also streamlined the online buying process. The end result is an increase in ticket sales — not to mention a happier Board of Directors
• SOPAC is also a "Hub" for programs that benefit the local community. The site includes sections on Supporting SOPAC with a Donation Portal, Educational Programs, which includes "Inspired Minds", a yearly Online Student Arts Program, Facility Rentals, and Community Events.
SOPAC also produces a monthly podcast of upcoming shows and events.