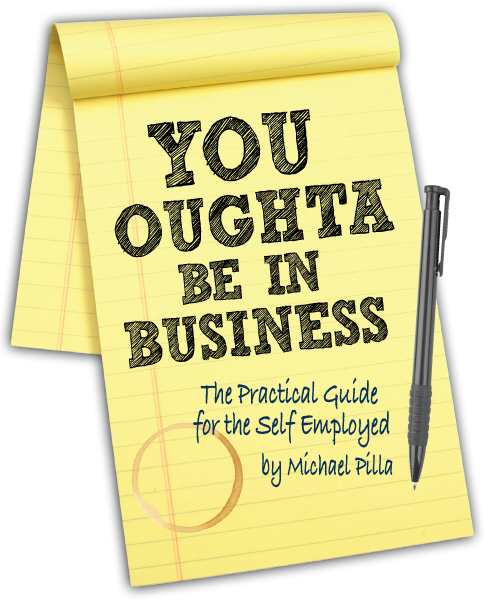 Be the CEO of You!
Michael Pilla wrote You Oughta Be In Business foranyone starting out with nothing but a dream, a laptop, and a mild sense of desperation. He provides real world know-how on dealing with the challenges facing the budding entrepreneur. Whether you're developing an App that locates Gluten-Free Sushi or a down-sized CFO with a sudden passion for installing central air conditioning — this book is for you!

Real World Info You Need to Succeed!
• Reasons for Starting a Business
• 6 Steps to the CEO of You
• 4 Horsemen of Success
• Cash Flow When There is None
• Branding: Who You Are, Anyway?
• Coffee: Grinds or Pods? What about Tea?
• The Chico Marx School of Invoicing
• Networking Event Kabuki
• Managing the Managers
• Using Pets as Staff
"A great book for any business person with a sense of humor."
A "Practical Guide" indeed!
Mike's a High School classmate of mine, he writes in the sound of his voice, a seasoned, practical, hard-working New Yorker. The book offers something for everyone, whether you are thinking of starting your own business or just curious about what it takes. I was thinking that if he were to re-write this with some made up characters, it could be a best-selling novel. You'll enjoy this, and I am proud to say I knew Mike when, and I'm betting he's still that friendly, helpful guy. — MC
A "Must Read" for Business Owners!
I've been waiting for this book! It's a road map through the starts, detours and joys of being an entrepreneur. It's packed with creative ideas, tips and examples, and filled with humor and wisdom based on real world experiences." — ES
"Humor and Honesty in this little gem!
Great book for any business person with a sense of humor. Mr. Pilla is very frank about what it takes to start a business. I plan to use his book in my senior class because many of my students want to be entrepreneurs. Good job!" — RR
"I never thought I'd wet myself laughing at a business book!
Shining a bright light on the reality of starting your own business and being your own CEO was never explained as clearly as Mr. Pilla explains it. I highly recommend this Book!" — JG

From the Forward
"This is the book entrepreneurs need to read. It is a humorous textbook for grownups written from Michael's own experiences – both his successes and his failures.
Pilla walks the aspiring small business owner through various levels of starting and running a business, from employee to the CEO of you and everything in between —and beyond)."
Michael Nicloy, Head of Publishing
Reji Laberje Publishing